Dukesfield Arches are the remains of an industrial site dating back to the 16th Century, one of the earliest surviving lead smelting sites in the country. The two 18th Century stone and brick gothic-style arches now sit enigmatically alongside a bridleway in a wooded valley. They are Grade II listed, but in 2010 were suffering from collapse, inappropriate repairs and tree growth. Their future looked bleak.
Local people's concerns led two Parish Councils and The Friends of the North Pennines to research and develop the Dukesfield Smelters and Carriers Project, successfully applying for Heritage Lottery Funds. Their enthusiasm and curiosity to explore and share the heritage of the arches and the wider lead industry stimulated archaeological and archival research which informed the conservation planning.
Tristan Spicer from Kevin Doonan Architect prepared a conservation plan, implemented by a dedicated team of consultants, contractors, and volunteers, supplemented by trainees on CPD courses.
Heritage Consolidation Ltd undertook the consolidation repairs, including installing an innovative clay membrane soft capping to the top surface of the arches. The minimal intervention approach maintains the character and minimises disruption to the original historic fabric.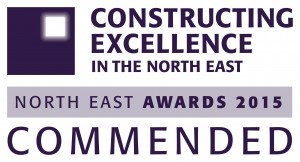 The arches are now in good condition, safer, easily maintained and better interpreted and understood. Their future is secure.
In May 2015 we were Highly Commended in second place in the Heritage category of the Constructing Excellence North East #CENEAwards2015 Pipped to the post by Dunston Staiths, but ahead of projects at Hexham Abbey, Newcastle's Exhibition Park, Newcastle Central Station and the Tees Transporter Bridge.