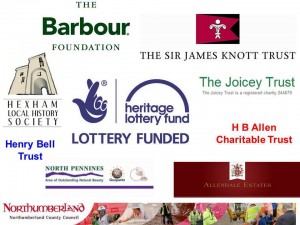 The project has been a great collaborative venture. It would not have been possible without the help and support of many different people and organisations. Our principal funding came in the form of a Heritage Grant awarded by the Heritage Lottery Fund, North East region, who also supported us in 2012 with a development grant. We are also very grateful to our other funders, Northumberland County Council – the Community Chest and from Councillor Colin Horncastle under the Members' Small Schemes, The Sir James Knott Trust, the Barbour Trust, the Joicey Trust, the H B Allen Charitable Trust, the Hexham Local History Society, Hexhamshire and Slaley Parish Councils and the Henry Bell Trust.
The Allendale Estates, owners of the site of the Dukesfield Mill, granted us a 25 year rent-free lease of the site, through their agents, Land Factor. The Viscount Allendale and his family have also kindly given us free access to their voluminous archives, without which the Dukesfield Documents online archive could not have been created, and allowed us to reproduce portraits in their collection. We are likewise grateful to Sir Hugh Blackett and to the National Trust (Wallington) for allowing us to reproduce portraits of the Blackett family in their ownership.
Staff of the North Pennines Area of Outstanding Natural Beauty Partnership provided crucial assistance during the project's development phase, helping with conservation and overall project planning. Paul Frodsham, the North Pennines AONB Partnership's Historic Environment Officer, ensured that the timing of the exploratory first excavation at Dukesfield, part of the highly successful and inspirational 'Altogether Archaeology' programme, took place at the most helpful time for us during our project's development phase. Support of various kinds during the early stages of planning the project from Kevin Doonan, John Harding, Andrew Swallow, and the Whitley Chapel Young Farmers Club is also much appreciated.
Most of all we are grateful to our 190 volunteers from around the region for their support, enthusiasm, good humour and great contributions.