During the project's development phase in October/November 2012, the inspirational North Pennines AONB Altogether Archaeology project, also HLF funded, helped us dig and backfill some exploratory trenches to see what we might find.
We used the results of this initial campaign to set out our plans for the main project, and we appointed The Archaeological Practice to direct and supervise our digs in 2013 and 2014. Work started in July with the help of the local Whitley Chapel Young Farmers Club who volunteered to remove the backfill from the millrace from the previous autumn's dig.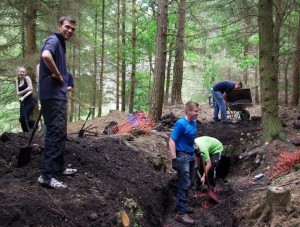 In July we opened up the millrace and also started excavating the chimneys.
With the scaffolding up around the arches for conservation work from September we were able to excavate along the top of the arches and reveal the parallel brick lined flues. Through an amazing amount of manual effort the chimneys were cleared of debris to a depth of 3 metres and conserved and strengthened as part of the stonemasons work, leaving them for future visitors to see.
With conservation complete and the arches stabilised it was safe to excavate the smelt mill site in front of the arches in the summer of 2014. We invited the public to view our progress during an 'open weekend' in May 2014. We found the main water wheelpit and the apparent location of the smelting hearths, once again removing a huge amount of spoil by hand. At the same time a sequence of works in the mill race and complicated structures in the woodland just to the east were also revealed and recorded during the summer and autumn.
And schools from along the lead routes came and lent a hand too.
Final Archaeological Reports are available here