Smelting and carrying the lead ore would have been a thirsty business, and the smelters and carriers no doubt welcomed a glass of ale at one of the many ale houses in Hexhamshire and along the lead route towards Blaydon. In the nineteenth century there were five pubs in Hexhamshire, plus a number of beer houses, licensed only to sell ale brewed by the householder. There is now only one left – the Dipton Mill Inn, not only a pub, but in the nineteenth century also the home of several lead ore smelters including:
'Mr George Forster, upwards of 30 years in the employment of Col. Beaumont at Dukesfield Smelt Mill and for that time never lost an hour's work by sickness or neglect' Newcastle Courant, 11 May 1822.
In 1851, John Forster, lead ore smelter lived at the Dipton Mill Inn; in the 1871 census he is described as 'innkeeper, carrier & landowner'. William Forster, who was probably John's brother, lived there in 1861 and in the census of that year was described as 'innkeeper and lead ore miner'
To celebrate this heritage we asked the proprietor Geoff Brooker of Hexhamshire Brewery and the Dipton Mill Inn to brew us a beer which was be available for a limited time in selected pubs along the lead route, such as the Rose and Crown in Slaley, and the Feathers at Hedley on the Hill, as well as at the first Allendale Folk Festival.
The beer was called 'Ore'Some Ale, a name which was selected from the many entries to our beer naming competition at Slaley Show. The Beer was launched at Slaley's own community pub – the Rose and Crown by local weatherman Paul Mooney. He delighted in pulling a pint and took some beermats as presents for his colleagues at the BBC.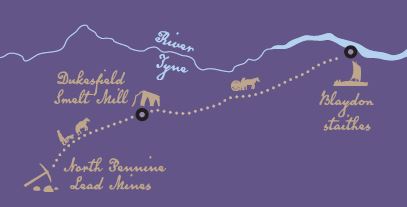 "Thirsty work, trudging over North pennine fells, ponies laden with lead ore
Thirsty work, sweating at the red hot smelting hearths at Dukesfield
Thirsty work, carting half a ton of lead down to Balydon Staithes
So raise a glass of 'Ore'some Ale to all. A toast! To those who trudged our lead roads centuries ago'