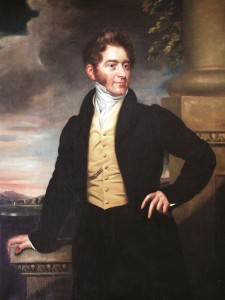 Reproduced by kind permission of Lord Allendale
The estates inherited by Colonel and Mrs Beaumont from her father in July 1792 were formally held by them in trust for their heir. Diana was expecting her first child at the time her father's last will was sealed in May, and Thomas was born in November. Greatly indulged as a child, he was a headstrong character, described in the 1820s by Diana's auditor James Losh as a 'mere slave of his passions and his habits' and in less measured terms as a 'mad beast' by John Lambton, son-in-law of Earl Grey. Lambton's outburst is unsurprising, having taken part in a duel with his election opponent Beaumont on Bamburgh beach, which doubtless enlivened the 1826 general election campaign. Whatever specific slight occasioned that bloodless encounter, it came just a few years after Beaumont had spectacularly terminated his engagement to the daughter of Sir John Swinburne of Capheaton by accusing his future mother-in-law of adultery with Earl Grey.
Little wonder, then, that the redoubtable Diana Beaumont had delayed as long as possible allowing her wayward son to enter into the inheritance of which she and her husband had been merely custodians, albeit commercially successful ones. His formal coming of age in November 1813 was celebrated in riotous fashion throughout Allendale, but it was to be five more years before he could persuade his parents to relent, perhaps linked to his becoming MP for Northumberland in 1818, following his father's retirement. Having obtained his majority, one of his first decisions was to buy Bywell Hall and estate in 1819, although he took care to keep his mother informed of progress during negotiations. His letters of the time betray some irritation at having to do so. The purchase might have been motivated in part by the fire which had severely damaged Hexham Abbey house the previous autumn, less than twenty years after its costly refurbishment. His portrait appears to show Bywell to the lower left.
When he took full control of the family business after his father and mother died, in 1829 and 1831 respectively, he made some wholesale changes of management but these appear to have been effective. Benjamin Johnson, who it seems had worked for T.W.Beaumont in the 1820s, was brought in to replace Thomas Crawhall as Chief Steward, and the highly able Hugh Lee Pattinson came in to oversee the lead mills. While the English lead industry as a whole never fully recovered its 18th century vigour in the Victorian period, the Beaumont concern inherited by Beaumont's son, the future first Lord Allendale, in 1848, remained in reasonable shape.
Greg Finch
See also:
M. Escott, 'BEAUMONT, Thomas Wentworth (1792-1848), of Bretton Hall, Yorks. and Bywell, Northumb' History of Parliament Online
E.T.Hughes (ed), The Diaries and Correspondence of James Losh, Surtees Society, two volumes (1962, 1963)
S.J. Wright, The Beaumonts and a Bureaucracy: A West Yorkshire Estate in the Eighteenth and Nineteenth Century, (2001)
G.Finch,'Grand plans, popular protest and human frailty: the Hexham Sele road dispute of 1823′, Hexham Historian, 26 (2016)