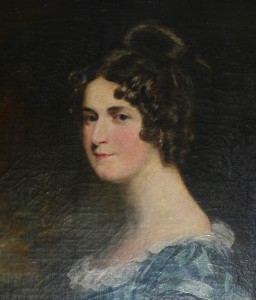 Reproduced by kind permission of Lord Allendale
Diana Beaumont was the illegitimate eldest daughter of Sir Thomas Wentworth Bt. (1726-1792) of Bretton Hall, Wakefield, Yorkshire. Sir Thomas inherited the Blackett lead fortune through family connections on his mother's side in 1777. Some sources believe Diana's birth mother was Elizabeth, daughter of John Wordsworth who was connected to the Wordsworth's of Penistone, a family of merchants trading as grocers and mercers.
Diana married Thomas Richard Beaumont, a Yorkshire landowner from Darton, on 28 July 1786. The Beaumont's inherited Sir Thomas's Yorkshire estates and the Blackett lead concerns following his death in 1792. Their principal residences were Bretton Hall and Hexham Abbey in Northumberland, although they frequently lived in London and elsewhere. From around 1800 onwards Diana became the dominant actor in supervising the family's interest in the Blackett-Beaumont lead company. This arose initially because of her husband's absence on military service in Ireland but her controlling influence continued after his return and persisted until her death in 1831, a period of some 30 years. The reasons for this were never clearly articulated but there can be little doubt that Diana possessed a much sharper business brain than her husband.
Contemporary accounts of Diana's character are strongly coloured by opinions expressed in the private correspondence of the Spencer-Stanhope family of Cannon Hall, Yorkshire. The Spencer-Stanhope's were near neighbours and keen observers of the Beaumonts at Bretton. Diana was often the object of amusement and ridicule in the correspondence of the younger members of the Spencer-Stanhope clan who were fond of referring to her as the great 'Madame Beaumont'. A chronicler of the family correspondence sums up their view of her by famously describing Diana as 'vulgar and purseproud'. As the illegitimate daughter and heiress of a libertine country squire who rose to considerable wealth, such a disparaging assessment may at least in part be ascribed to the strong social prejudices of the day. What is evident from Diana's business correspondence, especially with John Erasmus Blackett (1729 -1814) the principal agent of the lead company in Newcastle, is that she was a forceful and tenacious woman who held strong opinions. Diana was never a person to be trifled with and fiercely defended the interests and honour of her family at all times. Throughout her life she was determined to ensure that all of her 6 children, not just her eldest son (Thomas Wentworth Beaumont) upon whom the family's estates and lead fortune were entailed, were well provided for. Whatever else may be said of Diana, this she most certainly achieved.
Michael Powell
See also
A.M.W. Stirling, Annals of a Yorkshire House from the Papers of a Macaroni and his Kindred. London: John Lane & The Bodley Head (1911)
A.M.W. Stirling, The Letter-Bag of Lady Elizabeth Spencer-Stanhope compiled from the Cannon Hall Papers 1806-1873. London: John Lane (1913)
S.J. Wright, The Beaumonts and a Bureaucracy: A West Yorkshire Estate in the Eighteenth and Nineteenth Century. Wakefield Historical Publications (2001)